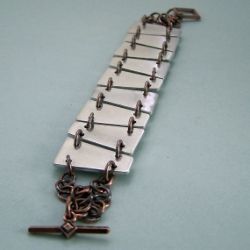 Last weekend I was watching the movie Atlas Shrugged which features a metal bracelet. I love the angular and geometric simplicity of it and decided to make one out of wood.
I've made a few wood jewelry projects in the past and have discovered that no matter how simple the project appears to be, it always seems to come with its own set of challenges, mostly due to the small scale. If, when building a three-foot wide storage cabinet, a measurement is off by a 1/8″, I don't get too worried. On a one-inch wide bracelet link, an eight of an inch is unacceptable.
This bracelet and earring set can be made with just a hand saw, a hand drill, and a plane. As with any jewelry project, you want the wood to be thin and lightweight. If you happen to have wood that is already 1/8″ thick or less, you are good to go.
I used a piece of Yucatan Rosewood for my bracelet. It's got a beautiful reddish color and a dark grain. The nice thing about making wood jewelry is that is requires very little wood, so it's a great opportunity to use some scraps you've been saving. It can also be a good excuse to splurge on some exotic lumber. Just make sure the wood is hard. Soft woods such as pine are likely to break.
The biggest problem I ran into with this was that it simply didn't look right when I first assembled it. The rings I bought were just too big. It was a case of something that could only be discovered in the "real world". On paper, the rings looked good. I made another trip to the craft store and bought some 10mm rings, which worked out perfectly.
If you would like to experiment with this design, here is the cutting template I made for the earrings and the bracelet.
*****