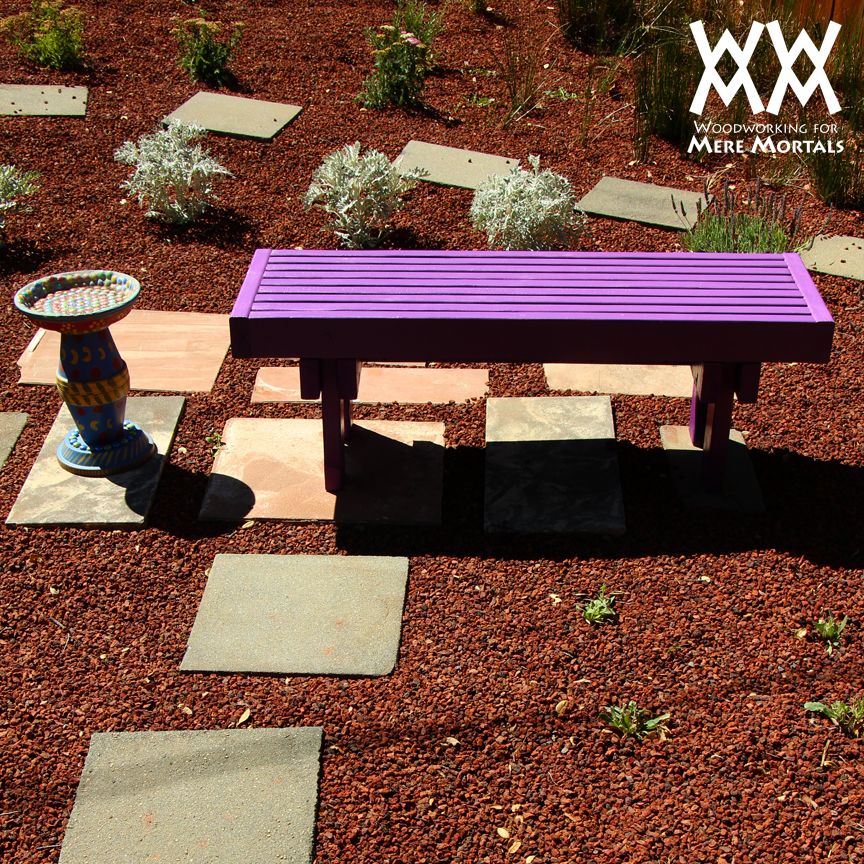 Doing my part to brighten up my front yard and the world.
Inexpensive woodworking
Depending on where you get your lumber, you should be able to build this bench for under $30. It is made using seven 8-foot long 2x4s. You will also need some deck screws and a 3/4″ dowel.
I made the seat by lining up the boards on  their sides, which makes this one sturdy bench. I think it also makes it look more bench-like: similar to what you might find on a city sidewalk.
To simplify my assembly, I attached the legs with pocket holes and screws using my Kreg Jig. If you don't have a pocket hole system, you can screw in the leg assembly using long lag screws.
Free Plans
Protecting the wood
Since this is an outdoor project, it will need some sort of finish. You can stain it, apply a clear finish, or do what I did and apply a couple coats of latex house paint. I mulled over the various options and decided to make a bold statement with humble 2×4 studs by painting them knock-your-socks-off purple. Whatever you decide, it's a good idea to apply the paint or finish as you are building the bench: there are a lot of hard-to-reach places.
Purple paint?
I realize there will be a lot of people who will not approve of my color selection or the fact that I painted wood but I am prepared for the onslaught of YouTube comments. If  my goal was to showcase the wood's natural beauty, I probably wouldn't have chosen 2×4 studs. We define beauty in our own lives. Amongst all the negativity and competition for blandness, a little color can  go a long way to brightening up the world. At least a little.
*****